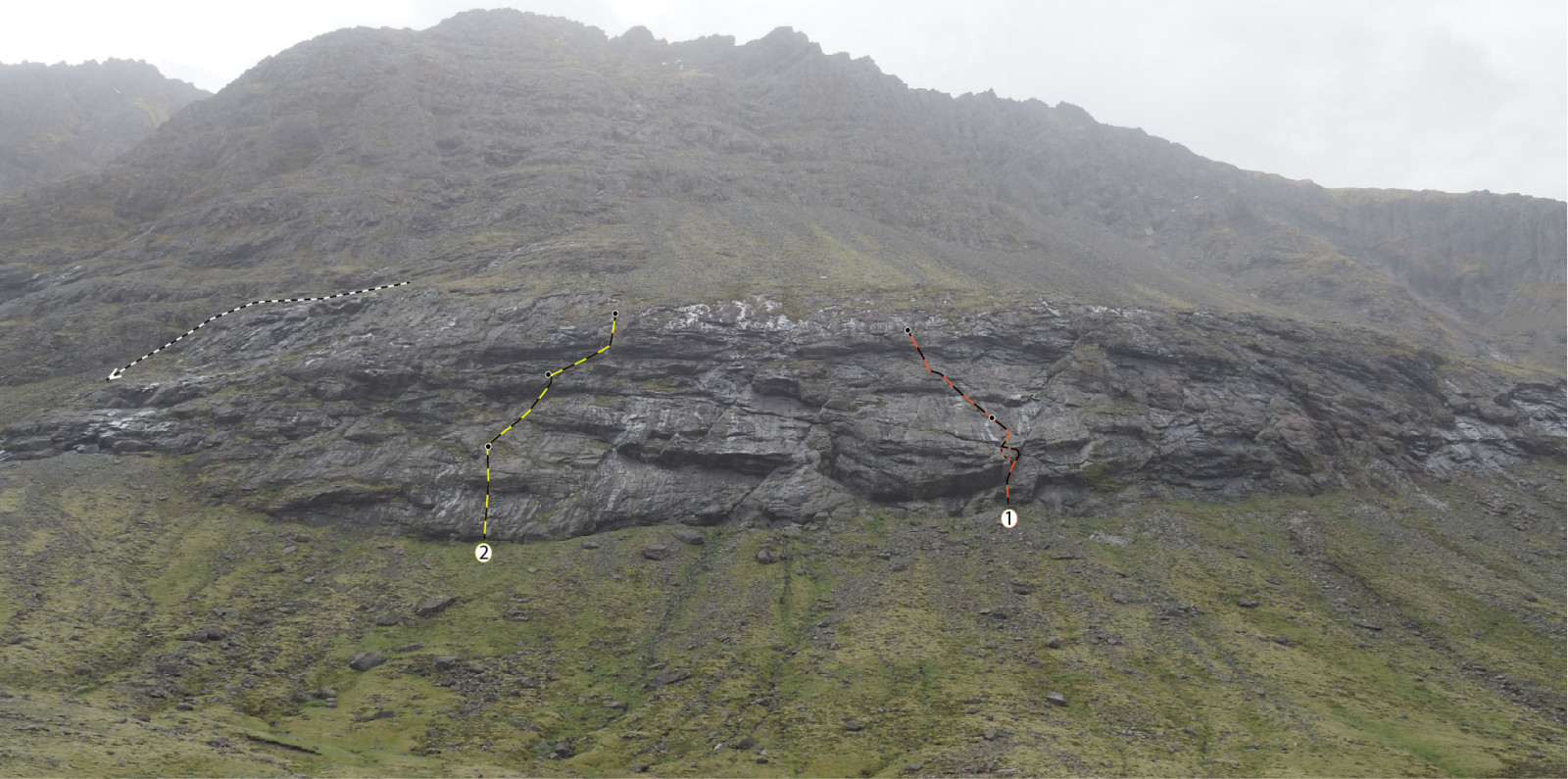 Leið 1 á mynd.
UK: Severe, US: 5.5/.6, Íslensk: 5.4. ⭐⭐
140 m (klifraði í 2 spönn með 70 m linar)
The name comes from the sound of breaking waves at the coast which can be heard from the cliff.
Follows an obvious left trending diagonal crack almost to the top of the cliff. Mostly very easy slab climbing, gear is found where it's needed.
Spönn 1: Start below an obvious corner and overlap, climb to the corner and follow this (avoiding wet streaks) to an obvious dyke and crack on the left, use this to gain the slab (alternatively gain the slab earlier through an obvious step in the overlap – this is probably drier and easier though may have loose blocks). Follow the slab to the diagonal crack and follow this to belay on a jammed block (60-65 m).
Spönn 2: Continue along the diagonal crack leftwards to pass through the next overlap on black rock. Follow the crack for a few more metres then head straight up the slab above on the driest rock you can find, to pass through the next overlap on reasonable holds with good gear. Finish up the slab to belay on easy ground.

To walk off, scramble up to the grass and traverse climbers left (east) to an easy grassy gully at the far (climbers) left of the crag.

F.f. Robert Askew and Catherine Gallagher, July 2021.


| | |
| --- | --- |
| Crag | Hvaldalur |
| Type | trad |
| First ascent | |
| Markings | |