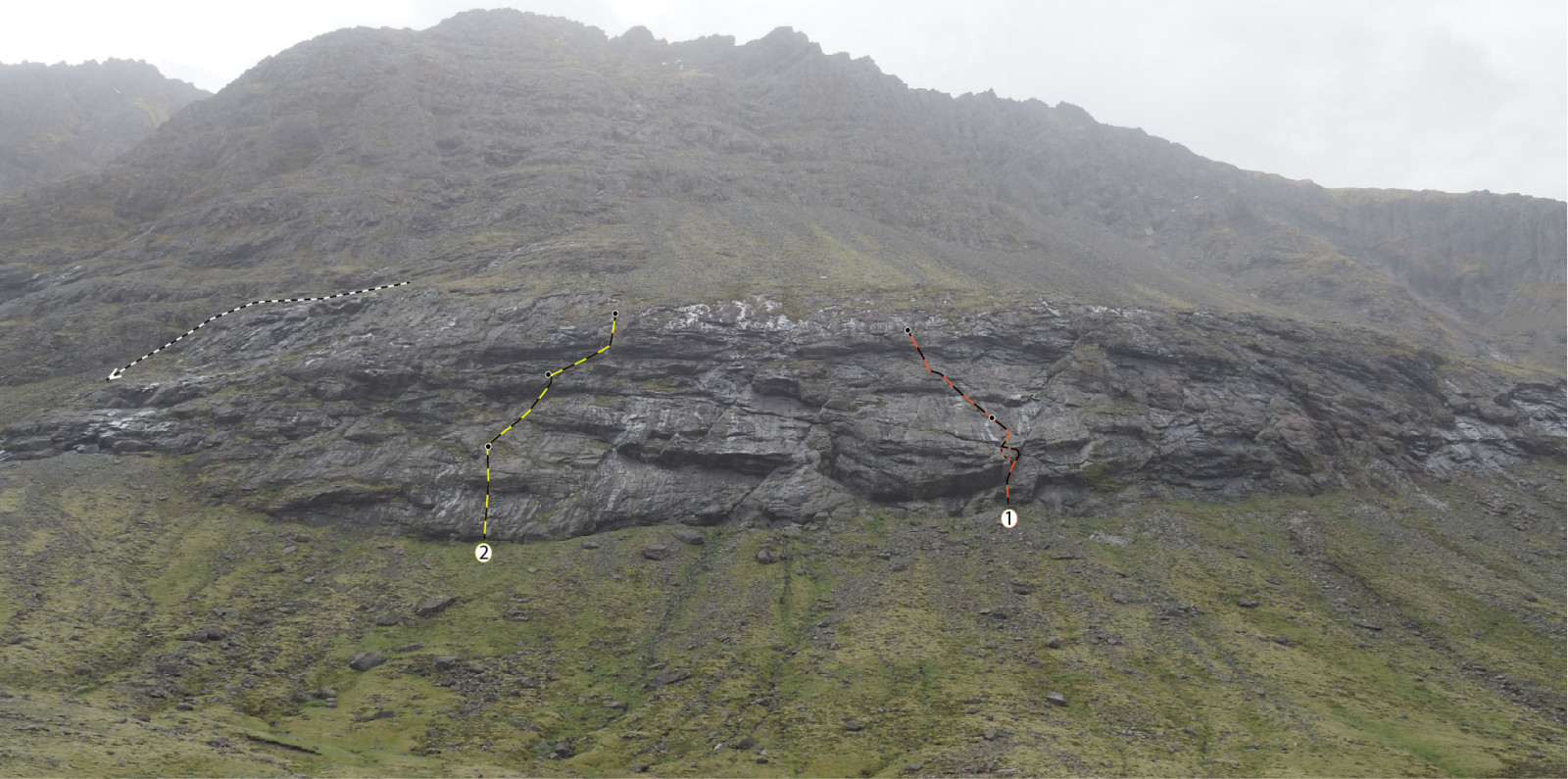 Leið 2 á mynd.
UK: VS 4c/5a, US/Ís: 5.8. ⭐⭐⭐⭐
180 m.
Klifraði í 3 spönn 65 m, 60 m, 50 m. (easy scramble up around 10 m to finish)
Named after all of the wild thyme growing in the valley.
Climbs fairly directly up the tallest section of the crag through the easiest ground. Start at the lowest section of the cliff, about 10 m right of a small leaning block cave (it is also possible to start from this block at the same grade).
Spönn 1: (4c/5a (French 5a)) Climb direct up dry rock to the large overlap and climb to the obvious corner to the left (with less than 70 m lines might be best to belay near here). Climb the corner with good gear to gain the slab (crux). Follow the slab (unprotectable) to cracked rocks and blocks to build a belay.
Spönn 2: (4b/c (French 4c)) Climb up mossy rock to gain a slab and a rounded shoulder above, follow this on easy ground all the the way to an obvious right-facing, black corner through the next large overlap. Climb the corner (crux, well protected) to a nice ledge and good belay stance.
Spönn 3: (4b (French 4b)) Gain the slab directly above the belay, traverse diagonally rightwards though a small cracked overlap (might be some loose rock) and continue to gain an obvious corner. Climb this (crux) and continue up the slab above to finish.
Scramble up to the grass.
Descend as for 1, to the climbers left.
F.f Robert Askew and Catherine Gallagher, July 2021.
| | |
| --- | --- |
| Crag | Hvaldalur |
| Type | trad |
| First ascent | |
| Markings | |